About
Our Vision
Without a vision, there is no brand. Everything starts from desire – a desire to make a change, to make something better or to be something we are not.

This is never truer than when we think about our skin. Our skin is a depiction of our inner-self. If not at its best, invariably our mood is reflective. So, the desire to look fresher, younger, healthier or more beautiful is driven by the need to be at our best, to be who we want to be.

So, the vision is simply one where we all are at our best, to go in to battle with confidence, our armour shining and to be victorious!
Our Ethos
'If something is worth doing, it is worth doing well' is at the centre of MAYSAMA's philosophy.

With the strapline Skincare with a Conscience, MAYSAMA is conscious not only of giving transparency to consumers but also providing products and packaging that don't cost the planet.

As an eco-lux brand, MAYSAMA offers high-performance products with an eco-conscious strategy. Green doesn't mean you can't be luxury.

Our ethos embodies sourcing the highest grade, natural ingredients from sustainable sources, as well as cutting edge active ingredients, to create an innovative range of premium skincare products that satisfy requirements for the ethical consumer market.

We believe we have achieved this through the MAYSAMA brand, which embodies the values of inclusivity and sustainability.

To be fully inclusive, our products are formulated for all skin types, including sensitive and reactive skin. Our skin-friendly, unique product formulations effect positive changes in skin health and help protect the skin's microbiome. Our products are registered with the Vegan Society and are approved as cruelty free under the Leaping Bunny programme.

Our sustainability efforts go beyond responsible sourcing of ingredients, to include our packaging. We use predominantly glass packaging, which is infinitely recyclable, and PCR plastic where possible. Our recycled cartons are crafted from FSC certified board and printed with non uv-cured vegetable inks.
We want everybody to be able to use our skincare products, regardless of values or skin type. For that reason, all our formulations are skin kind, as well as registered with the vegan society and Leaping Bunny approved.

Our formulations are suitable for all skin types, including the most sensitive and reactive skins. When formulating, we avoid any known allergens or ingredients that can potentially be skin-irritants or can trigger skin-sensitization, including essential oils or added fragrance.

Our sustainability values carry right across our brand, from sustainably sourced ingredients to eco-conscious packaging.

Our high quality Green Rooibos Extract is harvested from sustainable sources across the Western Cape of South Africa.

Our primary packaging is predominantly glass, which is infinitely recyclable, and we use PCR recycled plastic wherever possible. Our cartons are crafted from FSC-certified, recycled board and printed with non-uv-cured vegetable inks.

Green cosmetics doesn't mean that you can't buy luxury cosmetics. All MAYSAMA's products are formulated to achieve luxurious, sensorial textures, which absorb easily into the skin.

We use glass packaging to give a high-end look and luxury feel, whilst not costing the planet. Despite our high-performance products and high-end packaging, MAYSAMA's products are priced affordably to allow accessibility to most consumers.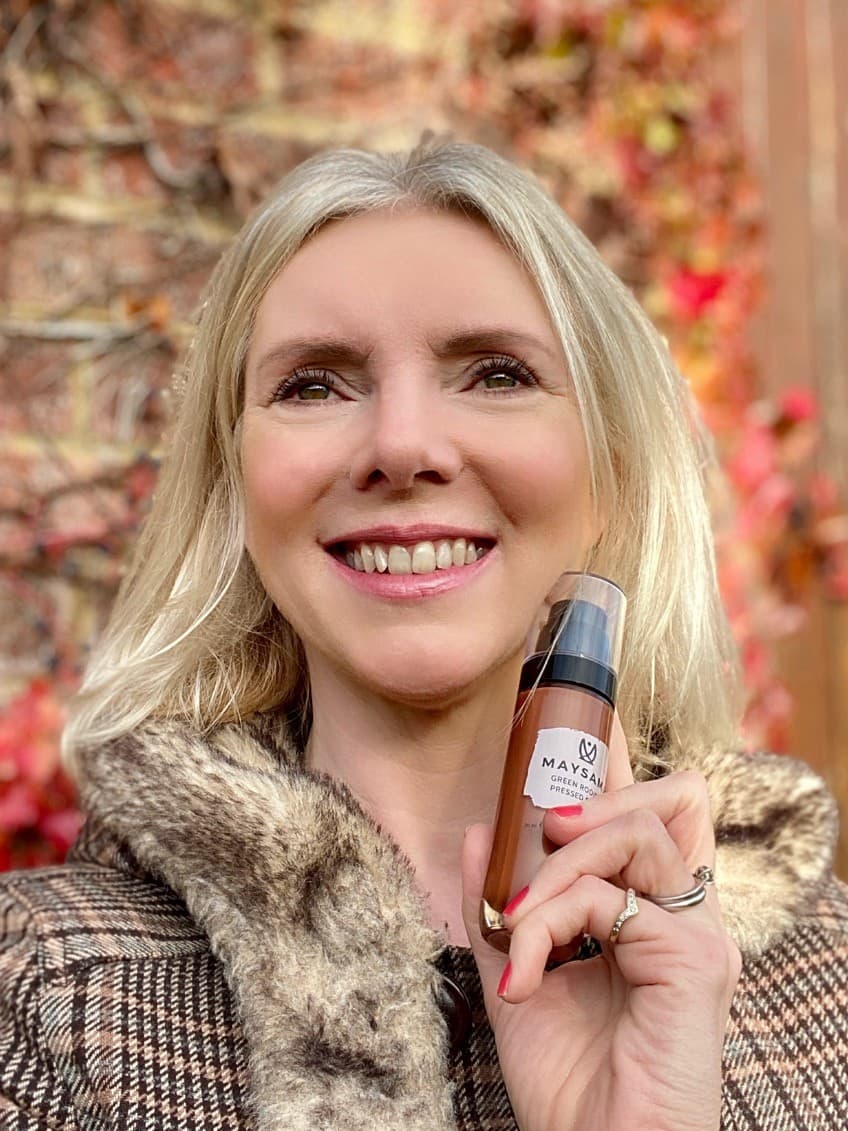 Meet The Founder - Bev May Sanderson
A brand is not a brand without authenticity, so there has to be a personal story. Like many others, I have had my fair share of skin complaints, including rosacea, vitiligo, photosensitivity, and now the effects of ageing. I recognise that I am not alone in wanting to achieve my best skin health and having benefited from good skincare, I have an altruistic drive to share this knowledge with others.

I developed vitiligo in my early forties and had to step up my sun protection due to the breakdown of melanin in my skin. It was my dermatologist who led me to seek more natural (physical) alternatives to the solely chemical sunscreens I was using daily and she spurred my interest in ethical and natural products generally.


My skin health has always notably been affected by diet and in more recent years I have consciously leaned towards 'clean' eating and reaped the benefits of a changed lifestyle. Focussing on a more natural diet, I became a devotee of rooibos tea and found that its anti-inflammatory properties markedly improved my rosacea.
Around the same time, I started to indulge in Korean Beauty. I follow many beauty bloggers and vloggers, including Gothamista, owned by You Tuber Renee, who is based in New York. Renee inspired me when she said that rooibos was one of her favourite cosmetic ingredients.
My curiosity in rooibos grew and, as a result, I started to look at what was so special about this herb. I was intrigued that one herb could have so many benefits for skin and work at so many different levels, as antioxidant powerhouse, together with its unique ability to protect fat cells responsible for maintaining skin fullness, as well as its anti-mutagenic properties. Rooibos really is an all-rounder, multi-tasking cosmetic ingredient and potentially a powerful antidote in an anti-aging armoury

Whilst rooibos has been used in cosmetics, it's the more popular red (fermented) rooibos that is found, rather than green rooibos, which comes from the unfermented leaves. I learnt that fermentation however destroys many of the flavonoids, responsible for the antioxidant properties.

It was apparent that not all claims were backed up by science and there was a gap in the market for a premium brand where high-grade Green Rooibos, used at efficacy levels could provide a line of high-performance skincare.

In connecting with the South African Rooibos Council and subsequently the researchers performing rooibos studies, we were able to set up a collaboration to further explore the potential of rooibos as a star ingredient for skincare formulations, and MAYSAMA was born!

Fragrance in skincare is something that I believe was contributing to my reactive skin. Fragrance has been linked to Allergic Contact Dermatitis and is the number one ingredient that consumers avoid. Ironically, brands marketing themselves for 'sensitive skins' frequently contain essential oils and added fragrance.
Frequently Asked Questions
Are MAYSAMA's formulations 100% natural?

MAYSAMA's formulations have a natural bias. At times, where the ingredient does not exist in nature, or it is more sustainable to manufacture it, we may use a synthetic ingredient in place of a natural one. For example, we use synthetic hyaluronic acid rather than naturally derived because this is the more sustainable option. Our cholesterol is part plant-derived and part synthetic because vegan cholesterol does not wholly exist in nature.
Do you use any harsh chemicals in your formulations?

MAYSAMA formulates for all skin types, including the most sensitive skins. For this reason, we avoid any known allergens or ingredients that can potentially be skin irritants, including essential oils, added fragrance, denatured alcohol, propylene glycol, dimethicone, dehydroxyacetic acid, phenoxyethanol, and sulphates.
Are MAYSAMA's formulations non-comedogenic?

Whilst we cannot guarantee our formulations are non-comedogenic, MAYSAMA only formulates with oils that have a comedogenic rating of 1 or 2.
Are MAYSAMA's products clean?

As a new brand, MAYSAMA would be foolish to include ingredients which are currently out of favour, such as parabens. We do not however subscribe to 'clean beauty' if the definition includes the demonising of otherwise safe ingredients. We merely intend to formulate for all skin types, including sensitive skin and therefore chose to avoid ingredients that may cause irritation to skin.
Are MAYSAMA's ingredients sustainably sourced?

MAYSAMA endeavour to source the most sustainable options for all of our raw materials. Our high quality Green Rooibos powdered extract is harvested from sustainable sources across the Western Cape of South Africa.
Are MAYSAMA's formulations manufactured according to GMP?

Our Green Rooibos powered extract and all MAYSAMA's formulations are manufactured to full pharmaceutical cGMP standards.
Are MAYSAMA's formulations Cruelty Free?

MAYSAMA believes that beauty products should be cruelty free.  We are proud to be Leaping Bunny approved.  A global programme, Leaping Bunny requires cruelty free standards over and above legal requirements.

All our own brand cosmetic products are approved under the Cruelty Free International Leaping Bunny programme, the internationally recognisable gold standard for cruelty free products.  We adhere to a fixed cut-off date policy and proactively monitor our suppliers to ensure that our products continue to adhere to the Leaping Bunny criteria.  Our supplier monitoring system is also independently audited.

For more information about Cruelty Free International, Leaping Bunny and Leaping Bunny criteria please visit www.crueltyfreeinternational.org